Welcome to this brand new Webinarjam 4.0 review and inside look at their pricing packages, free trial and to answer the question – will it work for your marketing business.
If you're reading this, then I don't have to convince you that webinars are the bee's knees when it comes to getting your messaging across while in the comfort and safety of your home.
No other medium has ever come close to replicating the power of having in-person contact like that of a webinar.
So, without further ado, let's hop right into Webinarjam to see if it's a fit for your video conferencing and webinar needs.
If you're here for the trial, you can test drive Webinarjam for a full 14 days for only $1 – click here to get started.
What is Webinarjam?
Webinarjam is a web based application that allows you to conduct live webinars from anywhere in the world.
Most recognize this platform as a sales tool, but can be used for many other task including coaching calls, business meetups, as well as the traditional sales webinar for your products and services.
Webinarjam is owned and operated by a company called Genesis Digital that was originally started by Andy Jenkins, which also owns other popular software services including Kartra and Everwebinar.
Webinarjam Reviews
Based on research as well as our own testing, we've found that most people are happy with the Webinarjam platform as well as their support.
The drawbacks you see are mostly from the early days of Webinarjam.
Initially, there were some concerns over lag and low quality from the stream, however that was addressed in their latest Webinarjam 4.0 upgrade which happened in January 2020.
Since that point, the quality, speed, and ease of use has been great and the user interface has improved tremendously.
Secondly, the biggest complaint we had was the lack of choices with registration forms. We prefer using our own landing pages instead of the built in landing page and the form was always an eyesore.
Again, Webinarjam took action on this area of concern and built a variety of forms to choose from instead of just having one with the launch of their 4.0 version.
Based on our research and testing, Webinarjam is established with a full team of support that have made the product one of the top webinar software platforms on the market.
Let's recap the advantages:
Support is top notch
Facebook Group for ideas and networking with other members.
Quality has drastically improved
Creating a webinar is extremely fast – setup can be done in minutes
The new Webinarjam 4.0 interface is faster, cleaner, and includes a variety of forms to choose from.
What About Webinarjam 3rd Party Integrations?
Webinarjam will intergrate with the majority of 3rd party apps including many of the top email autoresponders.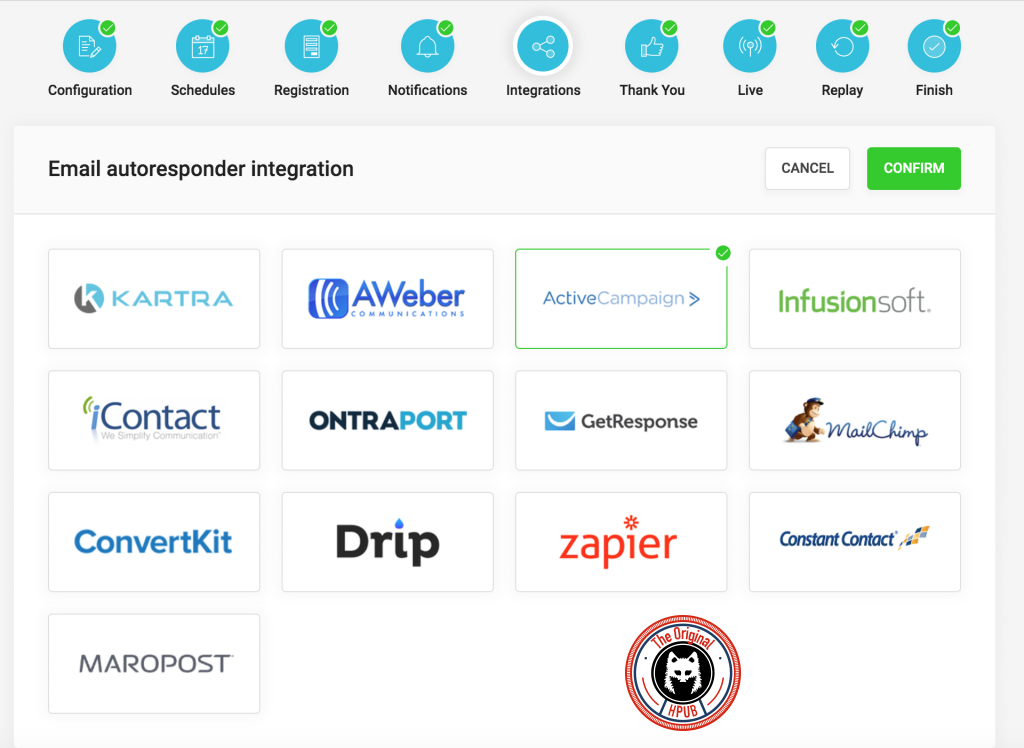 Kartra
Aweber
Activecampaign
Infusionsoft
Icontact
Ontraport
Getresponse
Mailchimp
Convertkit
Drip
Zapier
Constant Contact
I should add with Zapier, you're able to create multiple integrations with multiple trigger points
What is the Webinarjam Attendee Limit?
It's all based on the package you signup for.
With 3 different plans, you can scale easily as your business grows.
These plans are the Basic, Professional, and Enterprise packages as outlined below.
How Much Does Webinarjam Cost? A Breakdown of Price and Free Trial Explained
Below you will see the details of Webinarjam's 3 pricing packages.
Basic Plan
Unlimited Webinars
Up to 2 presenters
500 Attendees
2 Hour Max Duration
$499 per year
Professional Plan
Unlimited Webinars
Up to 4 presenters
Up to 2000 Attendees
3 Hour Max Duration
Plus Always on Live Room
Panic room feature
$699 per year
Enterprise Plan
Unlimited Webinars
Up to 6 presenters
Up to 5000 Attendees
4 Hour Max Duration
Always on Live Room
Panic room Feature
The Control Center
$999 per year
How to Get Full Access For 14 Days For Free…
I should say practically free, because you can test drive Webinarjam with full access for 14 days to see if it's a fit for you and your business.
The way it works is you invest $1 today, then you're rebilled at your plan in 14 days.
Click Here to Activate Your Trial Now