Editor's Desk
The Russian appeal to Germany, by Egor Prosvirnin. NATO is Desperate for War. by Pepe Escobar
White Book click here for full report
The Russian appeal to Germany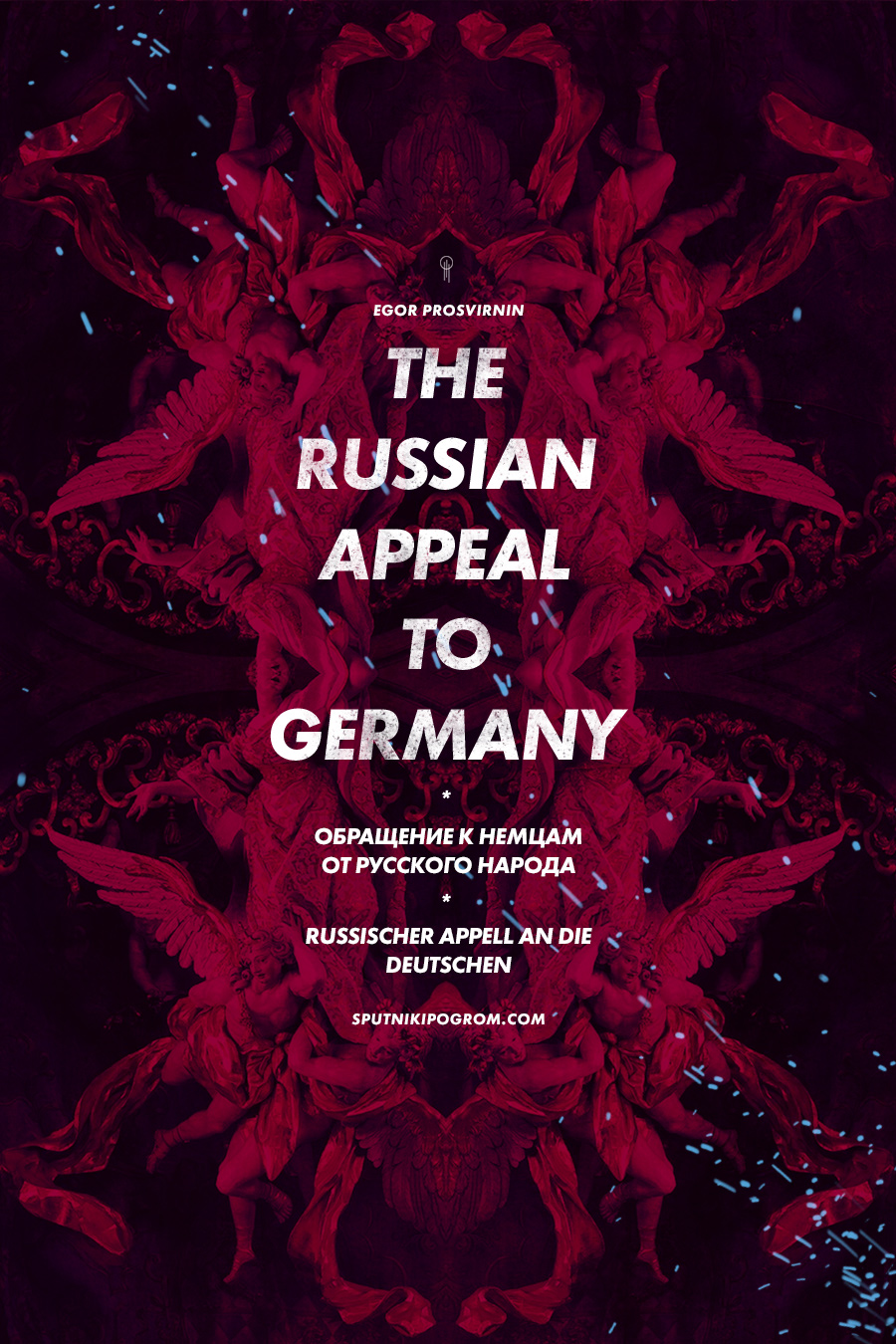 My name is Egor Prosvirnin, I am the chief editor of the Russian site www.sputnikipogrom.com which advocates European values. I've heard that one of the aspects of life that Europeans, and Germans especially,cherish is history. If we were to recall recent history, we would remember that a vast army of 300,000 Soviet troops along with 5,000 tanks, 1,500 aircraft and 10,000 artillery pieces (including tactical nuclear weapons) simply left the then just-united Germany without firing a shot.
It was an operation unprecedented in scope and brevity, when the entire Soviet army withdrew literally to open fields. Tens of thousands of Soviet officers, obeying the orders of the supreme command, went from their warm barracks to live in moldy tents set up in the middle of sodden snow-covered fields. In many instances along with their families.
For what?
For hope. Hope that the dark pages of history between our two countries were finally and forever past. Hope that we no longer have to keep armies of tanks in the center of Europe, and that Europe would respect and consider our interests. Hope that in a united Germany we would have a good friend and ally, with whom Russia would fulfill the dream of Charles de Gaulle of a united Europe stretching from Lisbon to Vladivostok.
When our armies were leaving Germany, our soldiers were told that Germany had recognized and redeemed its mistakes of the past, there were no undecided issues with Germany, and that we would no longer hear German voices calling for retribution against Russia, therefore we did not need our Army of tanks positioned in the middle of Europe.
From that moment, Russians and Germans were friends, and friends have no need for vast armadas of armor and tanks. Russians should cease being afraid of a united Germany and disarm.
And we disarmed. And for 20 years we felt that we did the right thing, that the past is forgotten forever, and that the Germans appreciated how readily we closed all the bases and brought all the troops home (although there are American bases in Germany to date). In good times our friends know us; in troubled times we come to know our friends; and troubled times did come via the Ukrainian crisis. It became clear that the Germans do not remember the good. It turned out that the Germans did not learn the lessons of history, it seems that the Germans viewed the voluntary dismantling and withdrawal of our war machine not as humanism and goodwill, but weakness.
It turns out that when the Americans spoke loudly and sharply with the German chancellor, whom they for all these years have kept under surveillance like some sticky-fingered housemaid, the entire German society leaped up like a submissive dog running obediently to its American master…. even when the conflict with Russia goes against German economic and political interests. It seems therefore that if one blunts their sword, removes their armor, ceases the Soviet-era preparations for World War III, and is reaching out to the Germans, the Germans will spit in your extended hand at the first opportunity.
It turns out that Russians are yet again "Untermensch", who can be savaged with impunity on the pages of the German press and punitive sanctions demanded from the rostrum of the Bundestag, while disallowing an opportunity for Russia to openly and equitably argue its case. It turns out, however, that the Ukrainian government can without any liability prohibit the Russian language, jail Russian activists, target residential neighborhoods with volleys of artillery, kill thousands of civilians who happen to be mostly Russian – and that's OK. It is OK because it's a "democracy", and it suits Germany because Russians are "Untermensch", because Russians are Jews whose blood for Germans is worth nothing. And what's more, for trying to defend themselves, for attempting to return fire against the Ukrainian armed forces, Russians should be punished, publicly harassed, their will to resist broken, and then forced into an international Russian ghetto.
Then burn that ghetto, as the Trade Unions building in Odessa was burned with 49 pro-Russian protesters inside. Do you know how the Ukrainian social networks responded to this holocaust? By referring to the dead as "Colorado Shishkebabs"(*) – this is what tens of thousands of people in the Ukrainian social networks wrote, including indecent sayings copied into photos of the charred bodies.
We are again the subhumans, we are again nothing but animals that Ukrainian Nazis may kill with impunity, creating a "Russian-frei Ukraina". According to the data collected by Human Rights Watch, only during this past July the Ukrainians killed one thousand one hundred fifty PEACEFUL RUSSIANS in the eastern part of the country, and these killings continue daily. Where are your protests, Germany? Where are your sanctions against Ukraine? Where is your vaunted humanism that you profess to have learned since 1945 by recognizing the errors from your past?
Saur-Mogila, which is located on strategic heights and is a memorial to Russian soldiers who died there 70 years ago during a fierce battle with the Wehrmacht, has once again been stormed. This time by the Ukrainian battalion "Azov" wearing their Wolfsangel patches, a symbol of the 2nd, 4th and 34th SS divisions, and you are silent! Russian militia are ducking behind the granite statues of Soviet soldiers from neo-Nazi bullets fired by "the National Guard" of Ukraine, and you dare to agree with the American nonsense about "Russian aggression"! Ukrainians shoot cities with ballistic missiles, leaving craters in places homes once stood, and you impose sanctions not against Ukraine but against Russia!
Again, troops are killing unarmed Russian civilians, and you are debating whether it is time to start delivering weapons to these murderers so that they can kill more Russians? All of your vaunted "politics of memory" and "learning from the past" is simply a pile of dog shit, as again before your eyes unarmed civilians are butchered, and you applaud this and promise these Ukrainian murderers fresh financing.
You have not learned humanism, you Germans. You have not learned responsibility. You have not learned to resist Evil and tell that Evil clearly to its face, "No, you are the killer, I will not help you, you must stop the killing immediately." You have not learned to be a responsible, independent, free people, who are capable of giving good in return for good.
You are slaves who think good is a weakness.
In 1934, Hitler drove you like sheep, and in 2014 Obama is your shepherd. If tomorrow in Germany, the Americans open a concentration camp for Russians, half of you will immediately submit their curriculum vitaefor jobs as operators of the gas chambers, and your press will start to explain how this camp is patriotic and good for the German economy. It would then follow that killing these Russian "Untermensch", crafting lampshades out of their skin for daring to resist, and sending this nicely packaged to Washington to please your American ally.
Germans have failed their test. When Evil has returned again to Europe, you do not even attempt to resist it, and immediately fall prostrate at its feet like a slave after the eagerly-awaited, long delayed return of your master. Serve Evil, impose sanctions, support the murder of Russians, supply weapons to the killers of Russians, justify this genocide – the end of your story will be familiar, because Evil cannot win.
I will conclude this text with a popular quote from the famous American stateswoman Ms. Victoria Nuland, who obviously makes the decisions in Ukraine instead of your Chancellor:
"Fuck the EU".
Like it or not, but admit that the Americans are a smart people capable of accurately determining the "price" of a united Germany and a united Europe.
NATO is desperate for war
By Pepe Escobar
The North Atlantic Treaty Organization is desperate; it is itching for a war in battlefield Ukraine at any cost.
Let's start with Pentagon supremo, US Defense Secretary Chuck Hagel, who has waxed lyrical over the Russian Bear's "threat": "When you see the build-up of Russian troops and the sophistication of those troops, the training of those troops, the heavy military equipment that's being put along that border, of course it's a reality, it's a threat, it's a possibility – absolutely."
NATO spokeswoman Oana Lungescu could not elaborate if it was "threat" or "reality", absolutely or not, but she saw it all: "We're
In trademark, minutely precise NATOspeak, Lungescu then added that Russia "most probably" would send troops into eastern Ukraine under the cover of "a humanitarian or peace-keeping mission". And that settled it.
Hagel and his remote-controlled Romanian minion Lungescu obviously have not read this or simply ignored its detailed explanation by Russian Air Force's spokesman: the "threat" or "build-up" happens to expire this Friday, the last day of Russian military exercises announced in advance.
Fogh of War gets antsy
Right on cue, NATO secretary-general Anders "Fogh of War" Rasmussen arrived in Kiev practically foaming war in his mouth, ready to lay down the groundwork for NATO's summit in Wales on September 4 when Ukraine, enthroned as a major non-NATO ally, could be projected to become, in lightning speed, fully NATO-weaponized. Moreover, NATO is about to seriously "build up" in Poland, Romania, the Baltics and even Turkey.
But then all sorts of Khaganate of Nulands (as in Victoria Nuland, US Assistant Secretary of State for European and Eurasian Affairs) derivatives started to spin out of control. One can imagine the vain Fogh of War vainly trying to regain his composure.
That took some effort as he was presented with the spectacle of Ukrainian President Petro Poroshenko – a certified oligarch dogged by dodgy practices – trying hard to evict the Maidan originals from the square in the center of Kiev; these are the people who late last year started the protests that were later hijacked by the Banderastan (as in Saudi Prince Bandar bin Sultan)/Right Sector neo-Nazis, the US neo-con masters.
The original Maidan protests – a sort of Occupy Kiev – were against monstrous corruption and for the end of the perennial Ukrainian oligarch dance. What the protesters got was even more corruption; the usual oligarch dance; a failed state under civil war and avowed ethnic cleansing of at least 8 million citizens; and on top of it a failed state on its way to further impoverishment under International Monetary Fund "structural adjustment". No wonder they won't leave Maidan.
So Maidan – the remix – has already started even before the arrival of General Winter. Chocolate King Poroshenko must evict them as fast as he can because renewed Kiev protests simply don't fit the hysterical Western corporate media narrative that "it's all Putin's fault". Most of all, corruption is even nastier than before – now with plenty of neo-Nazi overtones.
With Fogh of War already fuming because "Russia won't invade", the pompously named "Secretary" of Ukraine's National Security and Defense Council, neo-Nazi Andrey Parubiy – who is the most likely candidate for having ordered the hit last month on the MH17 civilian aircraft – decided to step out; a certified rat abandoning a sinking ship move mostly provoked by the fact he did not get an extended ethnic cleansing overdrive in Eastern Ukraine, and had to endure a ceasefire. Poroshenko is not an idiot; after loads of bad PR, he knows his nationwide "support" is evaporating by the minute.
Compounding all this action, a US missile cruiser enters the Black Sea again "to promote peace". The Kremlin and Russian intel easily see that for what it is.
And then there's the horrendous refugee crisis building up in eastern Ukraine. This past Tuesday, Moscow during a UN Security Council meeting requested emergency humanitarian measures – predictably in vain. Washington blocked it because Kiev had blocked it ("There is no humanitarian crisis to end"). Russian Ambassador Vitaly Churkin dramatically described the situation in Donetsk and Luhansk as "disastrous", stressing that Kiev is intensifying military operations.
According to the UN itself, at least 285,000 people have become refugees in eastern Ukraine. Kiev insists the number of internal refugees is "only" 117,000; the UN doubts it. Moscow maintains that a staggering 730,000 Ukrainians have fled into Russia; the UN High Commission for Refugees agrees. Some of these refugees, fleeing Semenivka, in Sloviansk, have detailed Kiev's use of N-17, an even deadlier version of white phosphorus.
When Ambassador Churkin mentioned Donetsk and Luhansk, he was referring to Kiev's goons gearing up for a massive attack. They are already shelling the Petrovski neighborhood in Donetsk. Almost half of Luhansk residents have fled, mostly to Russia. Those who stayed behind are mostly old-age pensioners and families with small children.
Humanitarian crisis does not even begin to describe it; there's no water, electricity, communication, fuel and medicine left in Luhansk. Kiev's heavy artillery partially destroyed four hospitals and three clinics. Luhansk, in a nutshell, is the Ukrainian Gaza.
In a sinister symmetry, just as it gave a free pass to Israel in Gaza, the Obama administration is giving a free pass to the butchers of Luhansk. And there's even a diversion. Obama was mulling whether to bomb The Caliph's Islamic State goons in Iraq, or maybe drop some humanitarian aid. He opted for (perhaps) "limited" bombing and arguably less limited food and water airdrops.
So let's be clear. For the US government, "there might be a humanitarian catastrophe" in Mount Sinjar in Iraq, involving 40,000 people. As for at least 730,000 eastern Ukrainians, they have the solemn right to be shelled, bombed, air-stricken and turned into refugees.
The new Somalia
Moscow's red lines are quite explicit: NATO out of Ukraine. Crimea as part of Russia. No US troops anywhere near Russia's borders. Full protection for the Russian cultural identity of southern and eastern Ukraine.
Yet the – real – humanitarian crisis (which Washington dismisses) is another serious matter entirely. Kiev's forces are not equipped for prolonged urban warfare. But assuming these forces – a compound of regular military; oligarch-financed terror/death squads; the neo-Nazi-infested "voluntary" Ukrainian national guard; US-trained foreign mercenaries – decide to go for mass carnage to take Donetsk and Luhansk, arguably Moscow will have to consider what NATO types spin as a "limited ground intervention" in Ukraine.
NATO spinsters are foolish enough to believe that if Putin can disguise the intervention as a peacekeeping or humanitarian mission, he may be able to sell it to Russian public opinion. In fact Putin has not "invaded" because Russian public opinion does not want it. His popularity is at a staggering 87%. Only an – improbable – Kiev-perpetrated mass carnage would change the equation, and sway Russian public opinion. Considering this is exactly what NATO wants, Fogh of War will be working overtime to force his vassals to bring about such carnage.
Still, considering the latest developments, what facts on the ground point to is the current oligarch dance in Kiev already unraveling – as in this example here. Moscow won't even have to bother to consider "invading". Meanwhile, Poroshenko's slow motion genocide in Eastern Ukraine, as well as his crackdown of Maidan remix in Kiev, will keep getting a free pass. All hail Ukraine as the new Somalia; a fitting Frankenstein created by the exceptionalist Empire of Chaos.
Pepe Escobar is the author of Globalistan: How the Globalized World is Dissolving into Liquid War (Nimble Books, 2007), Red Zone Blues: a snapshot of Baghdad during the surge (Nimble Books, 2007), and Obama does Globalistan (Nimble Books, 2009).
He may be reached at pepeasia@yahoo.com.